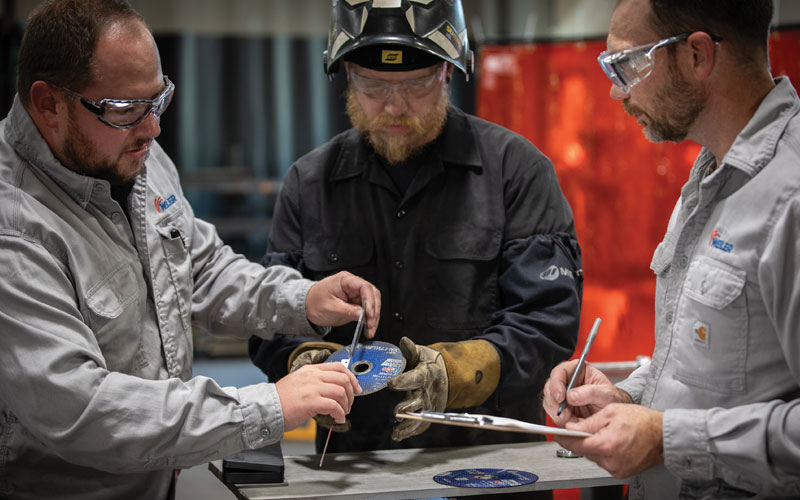 Eliminate inefficiencies, safety issues, and labor shortages in your operation. Weiler Abrasives and A&M Industrial will provide your company with expert level guidance on the shop floor by utilizing the Weiler Consumer Productivity Program (WCP). As an industry leader in metal fabrication, Weiler's highly trained and skilled application engineers are uniquely suited to identify and alleviate your industrial production challenges. With areas of expertise including CNC controls, surface finish generation, process optimization, 6 Sigma, Lean Manufacturing and more, our teams can help you increase your competitive capability and operational efficiency. In addition, A&M Industrial and Weiler can assist in the training of your end users to ensure your abrasives are used safely and effectively.
What is WPS?
Weiler Process Solutions program (WPS) is a comprehensive program designed to identify opportunities to make improvements that will have an immediate impact on your business. You explain your current situation and process and let our experts take care of the rest. Although capacity may not be an issue today, every manufacturer hopes one day it will be. Alleviating bottlenecks and challenges before they become capacity-constraints is smart, long-range planning. WPS has the capability to:
Reduce cycle times, energy consumption, WIP, and consumables / tooling cost

Eliminate bottlenecks, rejections and rework, and process variability

Provide documented cost savings

Provide documented best practices, including full manufacturing process instructions in a detailed engineering report.
What is Weiler's SPOT Safety Training program?
The SPOT Safety Training Program is designed to educate abrasive users on how to use abrasives safely and effectively, training end users on proper abrasives usage and potential hazards. Thinking about safety before the job starts — and after the job is complete — can help curb accidents and injuries in the shop. That's why Weiler's safety training program is based on the SPOT (Speed & Size, Pressure, Orientation, Time) methodology. SPOT safety training can be delivered on-site or virtually, allowing you greater flexibility as you implement safer work practices. SPOT has the capability to:
Increase workplace safety and health

Reduce downtime, workplace accidents, and OSHA recordables
Request a weiler assessment
Submit the adjacent form to request a WPS Assessment and/or SPOT Training:
---
Need Help Selecting The Right Weiler Abrasive For Your Application?
Contact our expert metalworking team for assistance with selecting the right Weiler solution for the job. In addition, download our comprehensive Weiler Abrasives Guide for in-depth selection charts and comparison tables that help you identify the right Weiler Bonded Abrasives, Weiler Flap Discs, and Weiler Power Brushes for your application.
.