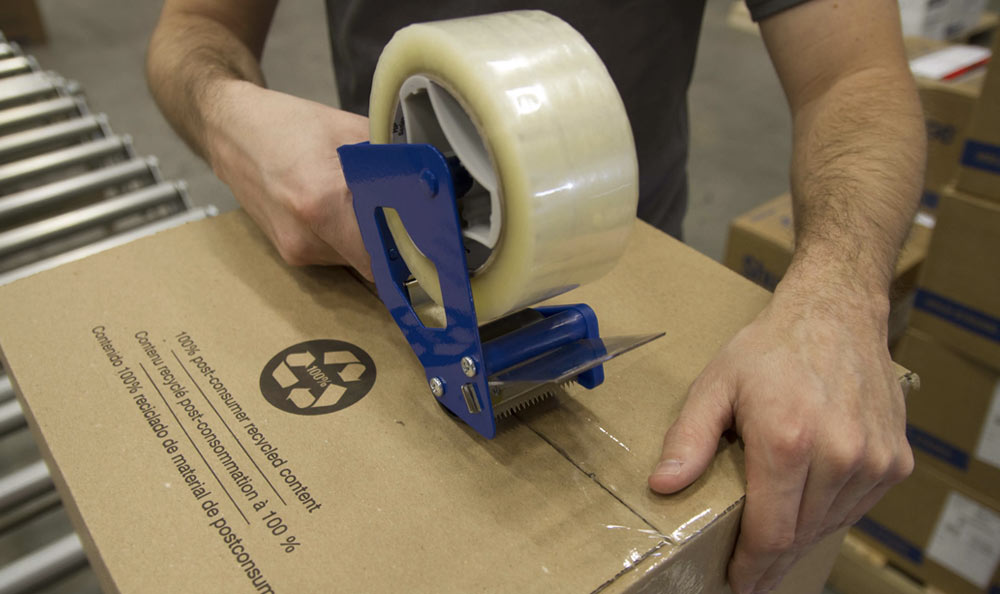 More than 74 percent of the corrugated paper manufactured today is recovered for reuse.* As the recycled content in corrugated containers increases, smaller fibers and more fillers are used, impacting your packaging tape's ability to create a secure seal. It's why Shurtape created HP 235 packaging tape – because recycled corrugate shouldn't be an exception to the rule of product performance.
'Going Green' doesn't have to come at the cost of securely sealing your packaging. When sealing recycled cartons, a specialized packaging tape is required to ensure complete adhesion and a strong seal to the carton's recycled material.
What tape is best for Sealing Recycled Cartons?
As the recycled content of corrugated boxes increases, the volume of kraft fibers and fillers increases as well, which can impact the ability of packaging tape to create a secure seal. That's where the Shurtape HP 235 Hi-Tack Packaging Tape for recycled cartons comes in. It is specifically designed to seal highly recycled corrugated cartons, particularly those made from 100 percent recycled materials.
What Makes ShurTape HP 235 Packaging Tape Different?

Shurtape HP 235 Packaging Tape is a standard gauge, 2.0 mil pressure-sensitive packaging tape crafted with an enhanced adhesive that offers higher shear, tack, and adhesion, resulting in better seals on recycled materials. When used with PrimeLoc tape heads, which provide unmatched wipe-down force, more of the tape's adhesive is utilized, ensuring consistent and secure seals. The added pressure from the tape head allows the adhesive to deeply entangle within the carton's recycled fibers, leading to increased fiber tear when the tape is removed. This feature provides tamper-evident security, giving you additional peace of mind.
How Does Shurtape HP 235 Packaging Tape Empower Sustainability?
Using Shurtape HP 235 Packaging Tape for reliable and effective sealing of your recycled cartons allows you to increase sustainability and your facility's green initiatives without reducing the effectiveness or security of each carton's seal. Being Earth-Friendly and using recycled packaging doesn't have to come at the cost of the safe and secure seal of each carton. With recycled packaging often available at a lower pricing, you can confidently utilize recycled cartons and reduce your operating costs without reducing the quality or effectiveness of each seal.
---
See More Shurtape HP Solutions
A&M Industrial is a full line distributor of the Shurtape HP high performance line of packaging tape and all the mill supplies you rely on. Each Shurtape HP solution features their HoldStrong® Technology, and offers unparalleled sealing performance. Call us or contact our Mill Supply Team for more information.
*According to the Corrugated Packaging Alliance.