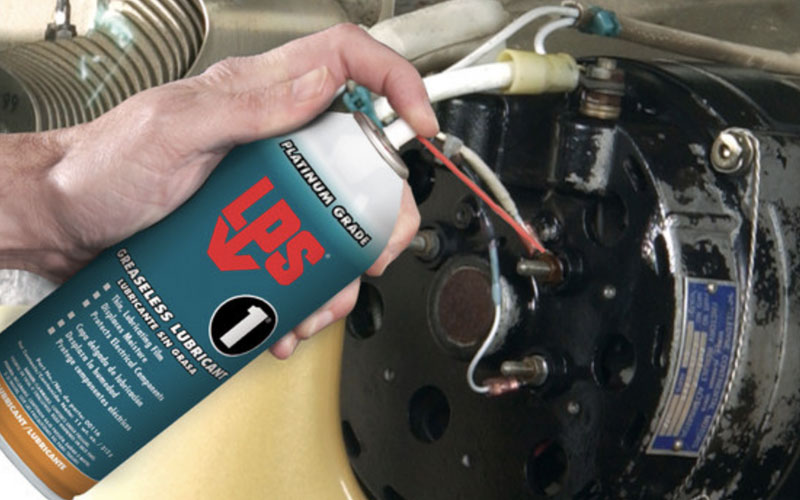 A&M Industrial is all about increasing efficiencies while simplifying processes and consolidating costs. One way to achieve these goals is by utilizing top quality products that serve multiple purposes. One such product is LPS 1 Greaseless Lubricant from ITW Pro Brands.
LPS 1 is a greaseless lubricant that penetrates quickly, displaces moisture, and will not attract dust or dirt. LPS 1 Greaseless Lubricant:
Provides a dry, thin, lubricating film

Resists oil, dust, and dirt build-up

Is ideal for delicate mechanisms

Removes carbon build-up from surfaces

Displaces moisture

Is safe on paint, fabric, and most plastics

Is used world-wide in aviation

Loosens rusted or frozen parts

Is VOC compliant in all 50 states
One Lubricant, Countless Applications
Not only is it one of the most effective industrial lubricants and water displacers on the market, this chemical-cabinet-champion serves countless purposes in maintenance, repair, and general applications. It's truly the Swiss army knife of lubricants!
LPS 1 applications include:
Lubrication: LPS 1 can be used to provide lubrication to moving parts, such as hinges, locks, gears, and sliding mechanisms. It helps reduce friction and wear on these components.
Penetrant: It can penetrate and loosen rust, corrosion, and seized parts. When sprayed onto rusted or stuck bolts, nuts, or fittings, it helps to ease disassembly.
Water Displacement: LPS 1 is an effective water displacer and moisture inhibitor. It can be used to protect metal surfaces from moisture, preventing rust and corrosion. This is particularly useful in marine and outdoor applications.
Contact Cleaner: It can be used as a contact cleaner to remove dirt, grime, and contaminants from electrical components, connectors, and switches without causing damage while cleaning.
Protective Coating: LPS 1 leaves behind a thin, non-greasy protective film on metal surfaces, helping to prevent further corrosion and providing protection for up to thirty days.
Rust Inhibitor: It's highly effective when used to protect tools and equipment from rust and corrosion during storage or transit, inhibiting rust for up to thirty days.
Thread Lubricant: When used on threads, it can ease the tightening of nuts and bolts and prevent galling and seizing.
Lock Lubricant: It is commonly used to lubricate locks and padlocks, preventing them from sticking or freezing in cold weather.
General Maintenance: LPS 1 is handy for general maintenance tasks in industries like automotive, aerospace, marine, and manufacturing, where it can be applied to various equipment and machinery.
Corrosion Prevention for Firearms: LPS 1

can be used to remove carbon soils from firearms. It also displaces any moisture and leaves a nice greaseless lubricant behind to keep delicate mechanisms moving easily.
Where can I use LPS 1?
Aside from its industrial roots, LPS 1 can be used in just about any industry needing lubrication, water displacement, and rust prevention.
Agriculture and Farming: LPS 1 can be used to lubricate and protect various equipment used in agriculture, including tractors, machinery, and irrigation systems.
Aviation and Aerospace: It is used in the aviation industry for various purposes, such as protecting aircraft components, lubricating control systems, and preventing corrosion on aircraft surfaces.
Wind farms: LPS 1 can be used to lubricate moving parts and protect equipment components from environmental stressors like rain and humidity.
Construction: Need to leave metal tools or equipment out on the jobsite for extended periods of time? Protect them with a thin coating LPS 1.
Facility Maintenance: Every cart and chemical cabinet should be stocked with LPS 1 to help with general lubrication applications.
What sizes of LPS 1 Are Available?
A&M Industrial carries a wide range of mill supplies and LPS 1 options, ensuring you can find the right size of LPS 1 for your facility's specific needs, as well as the container that best suits your application. Popular options include the LPS 1 (11 oz.) Aerosol, LPS 1 One Gallon Bottle, LPS 1 Five Gallon Pail, and LPS 1 Fifty Five Gallon Drum.
---
Rely On The Experts
We could go on and on about the multiple uses and applications of LPS 1, but we'd prefer to talk to you about your specific needs. Contact our expert metalworking team or give A&M Industrial a call today and let us help you with your chemical solutions. We are a full line distributor of trusted ITW Pro Brands, including LPS, LPS Max, LPS Detex, Rustlick, Accu-Lube, Dykem, Dymon, and more.