Top 3 Benefits Of Better Workholding With The ADAPTIX Vise Jaw System

Eddie Saunders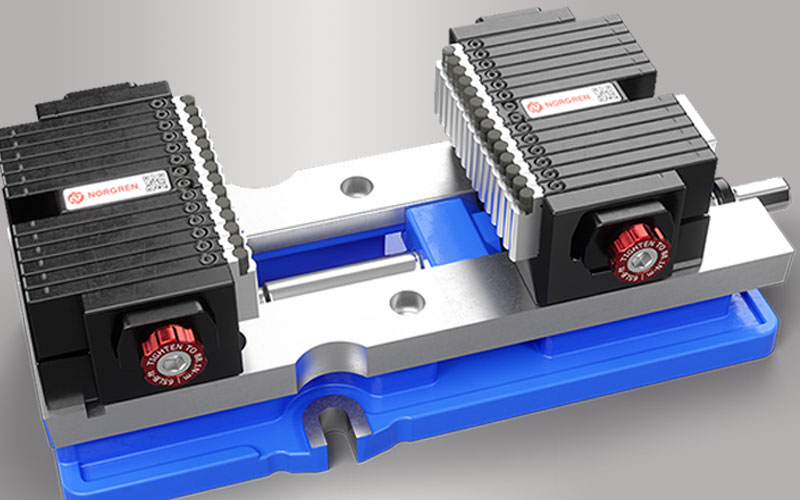 When it comes to increasing the efficiency of your machine shop operations, many machinists will typically look towards the same items time and time again. Better holemaking, threading or milling tools, new machinery, different coolant...you get it. But one major item that is highly overlooked is a shop's workholding tools. It's easy to think about what cuts the material, but so many look right past the tools that hold your workpiece in place. To provide expert insight, we're reviewing the top three benefits of better workholding and highlighting the impacts each can have on your business and your bottom line.
1. Resource Utilization
As important an aspect of workholding a reliable, secure hold is, an adaptable workholding solution that allows easy positioning, faster fixturing, and more efficient set up is also key. The ADAPTIX™ Soft Jaw developed by Norgren Workholding is a cutting-edge new technology that is transforming the way you hold and grip parts in your milling machine. It is an adjustable vise jaw that adapts to any part geometry made of aluminum or steel. With ADAPTIX™, you'll have the ability save upwards of 10 hours in monthly setup time. This allows you to not only operate faster, but with a burdened labor rate of $100 per hour you can almost instantly produce a savings of $1,000 per month. With faster machining operations, you can now more strategically quote potential projects. Even with a 35%-win rate, closing 1 more project per month at $1,000 can reduce your custom fixture spend by $1,350.
2. Machine Uptime
When you're making chips, you're making money. So reducing setup time between cycles can be crucial when trying to get parts out the door. Using the ADAPTIX™ Vise Jaw System you can increase your spindle uptime by as much as 2 hours per week. Consequently, with a utilization revenue of $200 per hour this easily adds up to over $1,700 in monthly savings to further accelerate the return on your equipment.
3. Scrap & Parts Savings
There are few things worse in a machine shop than having to scrap a part and waste material. With an average scrap cost of $250 per piece and a national average of 3 scrap parts a week, your scrap can cost you up to $750 a week, or $3,000 a month. With the ADAPTIX™ Vise Jaw System, you can reduce your scrap by up to 50%, make better use of your material, maintain part flow, and keep your spindles turning.
---
More about Adaptix™ Workholding Solutions
You can learn more about how you can leverage adaptive workholding at by contacting our metalworking specialists. We can help you identify the ADAPTIX™ solution that's right for your machine shop.