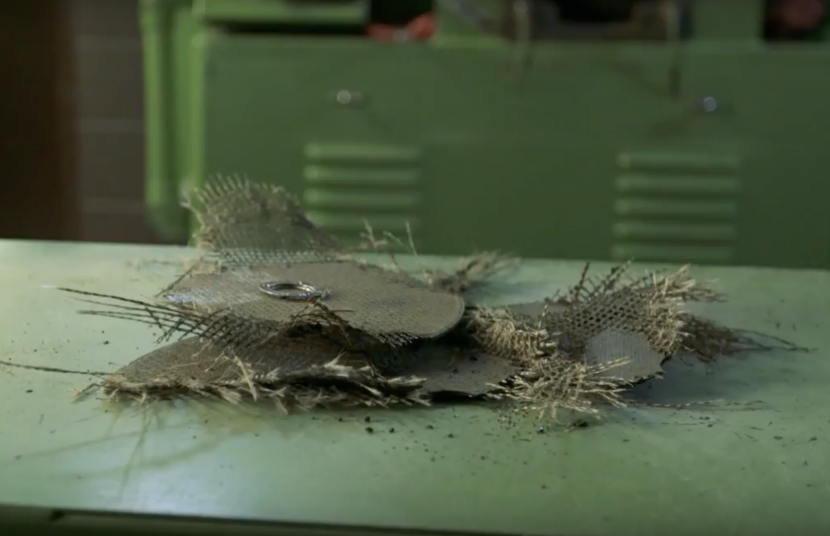 You never expect to load a brand-new cutting wheel or grinding wheel only to have it give out after using it only a handful of times. And you definitely don't expect one to suddenly tear or blow up in your face. Unfortunately, if you don't have the right wheel, or are using your equipment improperly, both of these can happen — and they happen more often than you might think. We'll provide you with best practices and recommendations that can help you ensure both the performance of your abrasive cutting wheels and also protect the safety of the operators and machinists in your facility.
Why Do Cutting Wheel Tears & Explosions Happen?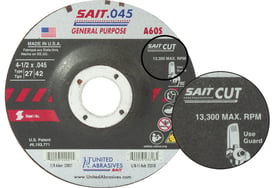 One reason a cutting wheel can explode or tear is that abrasives are built to work within a specific range of RPM's (rotation per minute), which are usually outlined on the packaging or on the wheel itself. If your tool exceeds a wheel's maximum RPM, or is otherwise used improperly, it can tear apart. Adhering to each cutting wheel's noted RPM range is critical to ensuring the cutting wheels performance and safe usage.
Another reason cutting wheels tear, come apart, or explode, is that some wheels just aren't built to last. Cut-rate wheels are cut-rate for a reason. Namely, they're usually manufactured with fillers or inferior bonding agents, which makes them flimsier and more prone to breakage. On top of that, they're often manufactured in places that don't follow the same rigorous testing and quality assurance standards adhered to by American manufacturers like United Abrasives.
It's important to remember that a cutting wheel with a lower price is most often indicative of a cutting wheel made with lower quality abrasive grains and backing. Use of low quality abrasives that utilize fillers will most often require more wheels to complete a job, which in the long run erases any initial cost-savings. Frequent replacement purchases and the increased risk of cutting wheel failure or accidents far out-weigh a low quality wheel's perceived 'value'. As with anything else, you do truly get what you pay for. When safe, reliable performance matters, you'll want to use a quality abrasive solution with premium abrasives and and high quality fiberglass reinforcements like United Abrasives Cutting Wheels and United Abrasives Grinding Wheels.
Avoid the risks: How To Avoid A Cutting Wheel Accident
As evidenced in this article's corresponding United Abrasives video, the example cutting wheel test could only safely be run by locking the wheel in a secure location. Now, imagine you didn't have that luxury and the little pieces and shards instead shattered or tore and flew all over your workplace. To best avoid a cutting wheel accident, adhere to the following best practices:
| | |
| --- | --- |
| DO: | DO NOT: |
| Do purchase high quality cutting wheels and grinding wheels that utilize quality abrasives grains & reinforced backing. | Do not purchase low priced, low quality cutting wheels and grinding wheels that utilize fillers. |
| Do always adhere to the RPM range noted on an abrasive wheel. | Do not operate an abrasive wheel outside of the noted recommended RPM range. |
| Do utilize equipment like bench grinders and angle grinders which feature safety guards or shields, designed to protect the operator from projectiles and debris. | Do not remove safety shields or safety guards from your equipment or modify any equipment yourself – this increases the risk of injury and damage should an abrasive wheel tear or come apart. |
| Do utilize appropriate safety equipment including eye protection, machine guards and shields, head protection and hand protection when operating machinery and industrial equipment. | Do not operate machinery or equipment without taking proper precautions and wearing safety gear. |
| Do regularly check the condition of your abrasive wheels before continued use. | Do not continue using a cutting wheel without looking for signs of wear that may indicate it's time to replace the wheel. |
| Do replace a cutting wheel when it significantly dulls or becomes excessively worn. | Do not continue using a cutting wheel that is excessively worn or in a state where backing is exposed - this increase risk of an accident, injury, and damage to equipment or workpiece. |
Summary
In short, the best way to reduce risk of a cutting wheel or grinding wheel accident is to use high quality abrasive solutions appropriately – within the wheel's noted RPM range – while utilizing the proper safety equipment and PPE. Don't leave anything to chance. Put safety and performance first.
Learn how to select the right cutting wheel for your angle grinder or contact our metalworking team for further product selection assistance. For more information on increasing the safety in your workplace, contact our safety team.
---
WANT More Information On Abrasive Wheels?
Download the United Abrasive Technical Info & Safety Guide for comprehensive selection charts and technical data on their wide offering of cutting wheels, grinding wheels, and more.